The report prepared by Analytics and Marketing Research Department of TELS Group of Companies for company's Annual Top Management Meeting includes current world economy survey, trends and forecasts of world trade expansion for the next 2 years in details by regions. The general conclusion is that world trade today is maintaining positive momentum, but at the same time, there are more risks and limiting factors of non-economic nature than usual.
World trade recovers, but pre-crisis growth rates have not been reached
From 1960 to 2008, when the global financial crisis occurred, world trade grew at an average rate of 6% annually, which was twice as fast as the average GDP growth in the same period. Trade growth was encouraged by decrease in trade costs associated, inter alia, with open borders, low tariffs and improved technology. The emergence of global supply chains accelerated industrial progress and increased labour efficiency.
Trade growth slowed during the crisis. In 2016, trade elasticity (the ratio of world trade growth to world economy growth) was at the level of 0.8. In 2017, this coefficient improved to 1.3 but remains low against the coefficients from 1990-s to early 2000-s (about 2).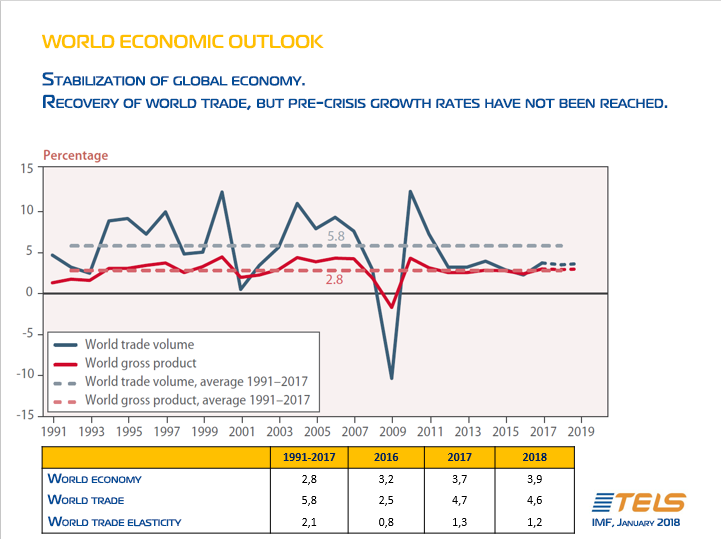 Oil prices as a factor of sustainable economic development
Significant oil price fluctuations this or that way pose stress for the world economy. In 2015, the average cost of Brent, Dubai and WTI oil fell to $ 51 per barrel over $ 96 per barrel in 2014. In 2016, the price decreased to $ 43 per barrel, more than twice since 2014.
In 2017, oil prices stayed at an average level of $ 52.7 per barrel. This was much encouraged by OPEC agreement and production restrictions. By mid-December 2017, oil prices had grown by 20% exceeding $ 60 per barrel. In early January 2018, prices saw an additional slight increase.
The International Monetary Fund forecasts an increase of 11.7% in average oil prices in 2018 over the year 2017 and a slight decrease of 4.3% in 2019.
According to IMF, based on futures markets (as of December 11, 2017), the price will be $ 59.9 per barrel in 2018 and $ 56.4 per barrel in 2019.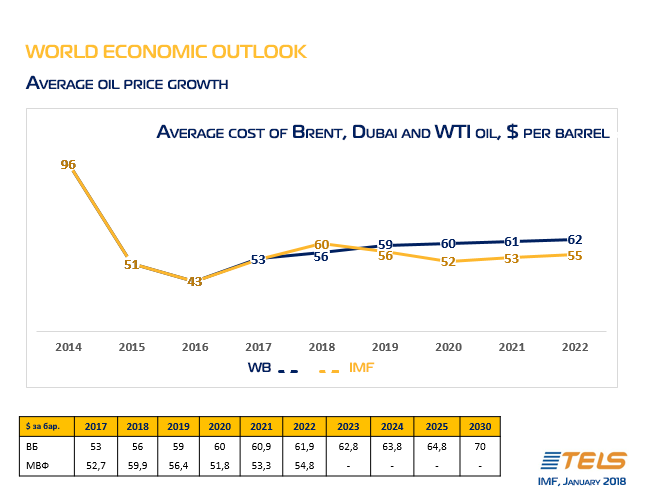 What weighs world trade down?
A number of factors are creating risks for the future growth of world trade. Many of them are of non-economic nature.
Financial tension all over the world is still high. Unclear relations between the EU and Great Britain after the brexit, prolonged government-formation process in Germany and other events affect the stability of European banks.
Changes in US monetary and fiscal policies along with protectionism of current White House administration bring instability to the world economic system and are likely to have a negative impact on world trade.
In general, protectionism trends growing all over the world are increasing barriers in free international trade.
The volume of loans in China is posing risks to the financial system of one of the world's leading economies.
In addition to all this, high geopolitical tension can cause further escalation of mutual sanctions and restrictions in free trade.
Forecasts. Production and foreign trade growth by regions
Nevertheless, forecasts are generally optimistic. Stabilization of prices for raw materials and mitigation of crisis in Eurozone after presidential elections in France strengthened the recovery of world economy in 2017.
The IMF forecasts an increase in world production at the level of 3.9% in 2018 and 2019. The countries of South-East Asia will show the highest rates of 6.5% and 6.6% respectively. Economic growth in Eurozone will decrease slightly from 2.4% in 2017 to 2.2% and 2.0% in 2018-2019, but this decrease will be significant in monetary terms as the market is financially large. At the same time, developing European countries will show growth at the level of 4.0% and 3.9%.
According to the IMF forecasts, the aggregate economy growth of the former CIS countries will remain at the level of 2017 with 2.2%.
Foreign trade all over the world will grow in 2018.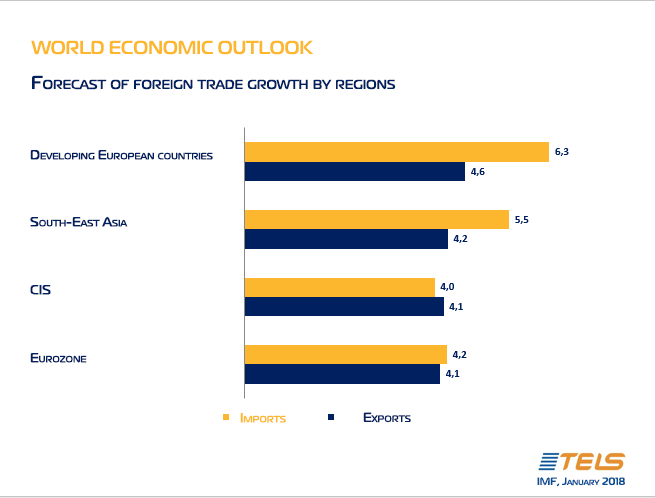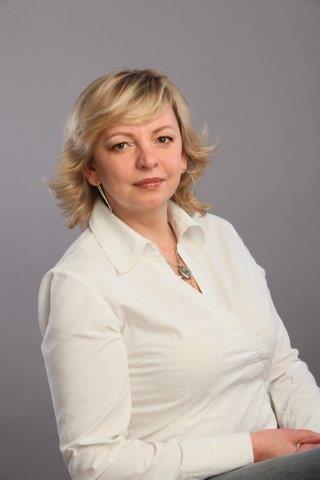 Expectations in the market of transportation logistics
Expert's comments
Shortage of transport vehicles and logistics staff in Eurozone
Elena Sazonchik, Deputy Director for Marketing of TELS Group of Companies:
"The rapid growth of world trade in 2017 after the crisis brought certain changes to the European market. The market of transportation logistics in Eurozone is experiencing major shortage of both transport vehicles and qualified staff.
Freight operators and recruiting companies discussed these problems at TransPoland-2017 exhibition. In particular, the shortage of transport in the Polish market of international road freight transportations was estimated at 100,000 vehicles at the end of 2017. In addition, there was a strong need for drivers.
One of the leading Polish on-line staff portals estimated the shortage of 250 thousand qualified workers in logistics in the next three years.
Of course, these factors are rather 'technical' and cannot hold the growth of European trade, but they create certain negative background."