By the instruction of the Government of the Russian Federation, a unified system for marking goods with control ID marks should be created by 2024. It is expected that most of consumer goods sold, manufactured and imported to Russia should be marked uniformly by that time.
So far, providers of integrated logistics services have marked goods themselves before importing them to the EEU territory. TELS Group is now working on a project aimed to prepare for mandatory tire labelling in accordance with new requirements.
TELS's experts tell about the scope of work to be done for logistics providers to ensure smooth transition to the new labeling system.
Alexander Ustimovich, a Leading Key Account Expert:
"Mandatory tire labeling will come into effect on December 1, 2019. Our company works with global tire manufacturers, so we need to provide a reliable labeling service to retain the existing clients and attract new customers in the tire industry.
We are now building new schemes. We have selected the major suppliers of warehouse services, agreed on the prices for labeling truck and passenger tires, made a list of transport companies ready to perform trial and regular deliveries. We are still negotiating with warehousing enterprises which can become alternative service providers in case of a sharp increase in traffic.
We have made it possible for our company to be included in the working group based on the CRPT (translated as Center for Advanced Technology Development), which comprises the representatives of the leading tire companies. The next stage implies trial transportations and labeling. The CRPT have opened the trial period for tire labeling from June 20 to November 30, 2019. But so far there has been no detailed information about the stages, requirements for the participants or recommendations."
Vitaly Polik, Deputy Director of Groupage Services Department:
"Presently, even the CRPT members cannot give reliable answers to the following questions: How will the unique code be placed on tires – with Data Matrix code or an RFID tag? and How will it be transferred to manufacturers/logistics operators for further labelling? There are several ways of tire labeling, but the recommendations will be developed only after trial experiments. All the importers and manufacturers are preparing to receive the codes in the Personal Account of the CPRT, and we are already preparing to receive these codes and organizing the infrastructure and IT solutions for applying them to tires."
Logistics providers organizing imports of the unmarked products integrate labeling services into transportation schemes: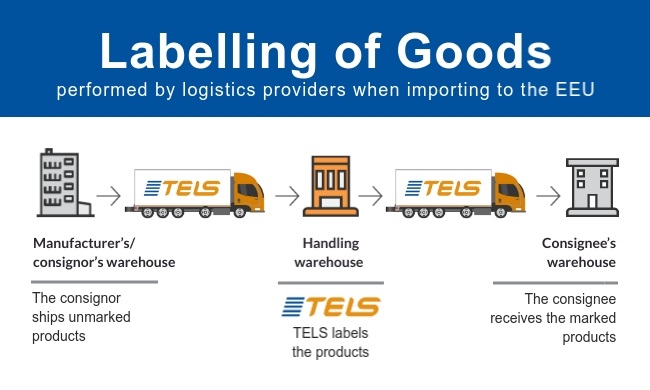 There is no doubt that by the time the requirements for mandatory tire labeling are introduced, TELS's customers will have no problems importing their tire products. We are preparing for the changes consistently and technologically.