In 2016, road transportation market from the countries of the EU to the major countries of the Eurasian region (Russia, Ukraine, Belarus and Kazakhstan) grew by 1.7% against the year 2015, making 17,483 thousand tons (hereinafter according to the data taken from Eurostat).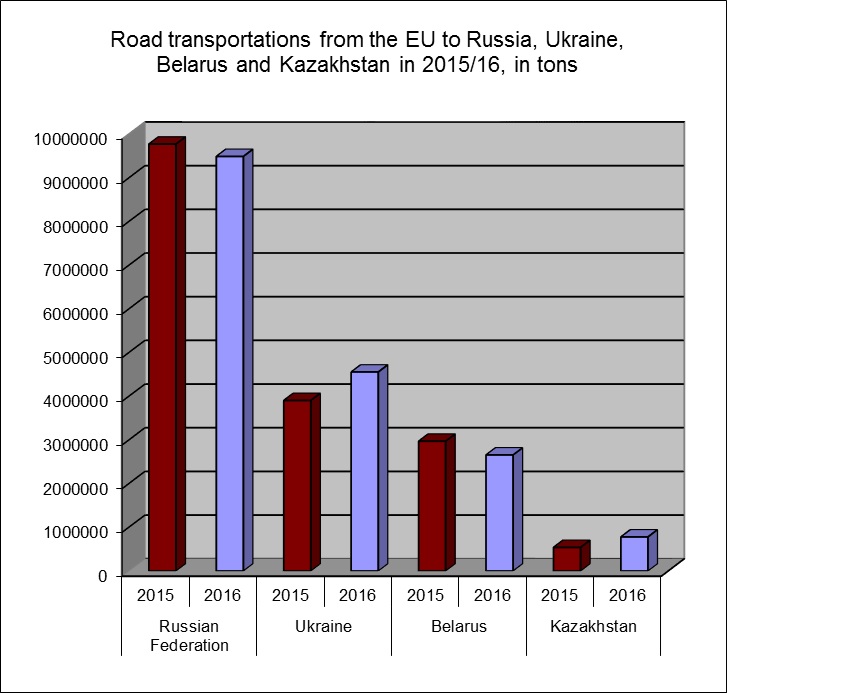 The growth in road logistics market in the above mentioned direction was mainly due to a considerable increase of import traffic flow to Ukraine, which was 16.7% more in 2016 over 2015, totaling 4,555 thousand tons. By percentage, there was a considerable increase of imports to the Republic of Kazakhstan – 779 thousand tons (+44.5%). A great volume of electric equipment and component parts exported there made this growth possible – the volume of cargoes expressed in physical terms grew 8 times against July of that year. However, the volume of cargoes came back to its old level in the following months.

Imports to Russia decreased by 2.9% in 2016 over the year 2015, up to 9,490 thousand tons. So, it's clear that road transportation market between the EU and the Russian Federation has become stable against the great decrease by -32% in 2015 over the year 2014.
The reason for a considerable decrease in the volume of road transportations from the European Union to the Russian Federation in 2015 lies in the Russian economic recession and mutual sanctions between Russia and the European Union, which resulted in a significant reduction of imports (foodstuff and certain types of equipment) to the Russian Federation. Despite the continued recession in Russia, cargo flow from the EU to Russia changed its import commodity structure in 2016, which helped preserve the volume of transportations at the level of the year 2015.
2,657 thousand tons were imported to Belarus in 2016, which is 10.6% less than in 2015. The reduction was mainly due to a decrease of imported vegetables and fruit.
Road transportations from the EU to Russia, Ukraine, Belarus and Kazakhstan in 2015/16, in tons
Russian Federation

Ukraine

Belarus

Kazakhstan

2015

2016

2015

2016

2015

2016

2015

2016

EU (28 countries)

9773976

9491530

3904026

4555250

2971223

2656726

539377

779645

Germany

2203813

2182707

611350

725311

197955

195519

112263

94143

Poland

1417454

1279794

1387400

1676398

991628

1354821

115065

115518

Finland

1204329

1147058

112520

110398

19651

22909

5487

4635

Netherlands

633804

702621

208460

226980

72936

64024

39808

317302

Italy

634223

663575

155673

190893

41934

41857

48439

46919

Lithuania

633195

540154

97012

105057

1330360

689229

82675

65813

France

395975

391519

83056

109096

20425

20353

21971

21749

Czech Republic

365445

375157

150106

159143

34256

28979

13195

10892

Belgium

310803

317023

93487

115208

42133

40551

20657

18057

Sweden

272994

259475

45838

51300

9901

10941

3071

3184

Latvia

275538

249682

41637

42049

45744

28600

5977

13888

Austria

280187

239051

76593

109925

28227

22636

20593

15424

Hungary

185690

184973

234708

251567

17928

17792

4298

5415

Estonia

179465

170445

52864

49917

19088

24719

3030

3150

Romania

168168

156105

178814

184180

10815

6672

6428

5837

Spain

128053

125849

42288

44997

32503

28259

13140

8104

Slovakia

119366

120667

159222

201440

19673

19916

3860

2096

Slovenia

89768

90118

23399

29341

8351

8094

4655

12632

Great Britain

80291

72278

50864

57312

4734

4384

6343

7969

Denmark

61581

64260

35970

44216

6417

7494

1908

1420

Bulgaria

57074

60856

29649

15647

5488

5571

1968

1233

Greece

28174

37331

26721

43334

5921

8236

2086

1718

Luxembourg

23456

34661

869

1633

289

132

97

443

Croatia

13811

13602

1704

5802

2982

4332

804

755

Portugal

8182

6909

2934

3195

1360

346

88

69

Ireland

3134

5660

888

911

301

219

1471

1280
Marketing Department of TELS Group of Companies, source – Eurostat