The Department of Business Analytics and Strategic Planning of TELS Group of Companies made a report on road freight from / to EU - Russia, Belarus, Kazakhstan, Ukraine, Uzbekistan (import, export).
Exports from the above-mentioned CIS countries to the EU showed high growth in Q1 2019 against the same period in the previous year. Ukraine's growth, however, averaged slightly over 4%.
Imports revealed a slightly negative trend only to the Russian Federation (-2.1%), a slight increase was seen to the Republic of Belarus (+2.7%). Imports to Ukraine showed good growth (8.3%). Transportations to Kazakhstan and Uzbekistan are growing rapidly (+21.1% and +38.6% respectively), at the same time physical volumes stay small here.
The aggregate road freight market in this geographic segment increased by 14.1% in exports (to 5798 thousand tons) and by 2.4% in imports (to 4644 thousand tons).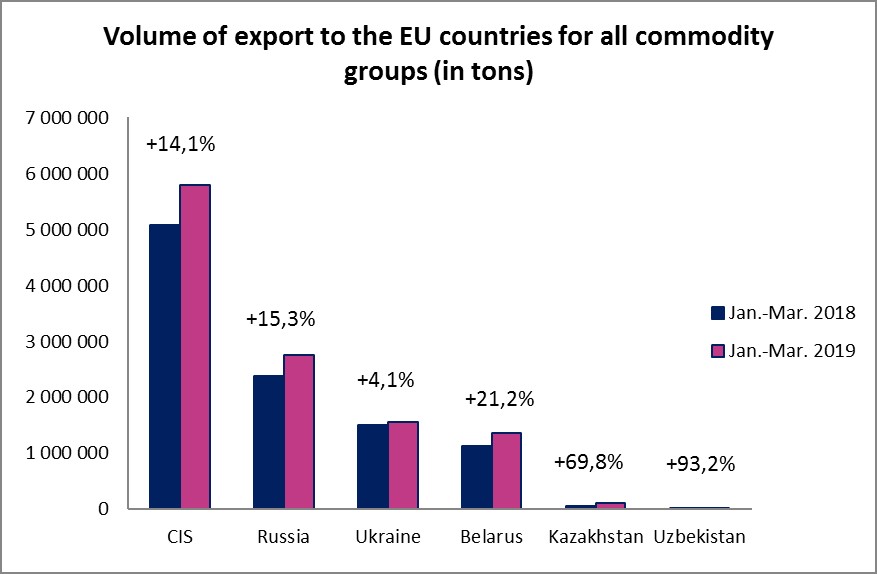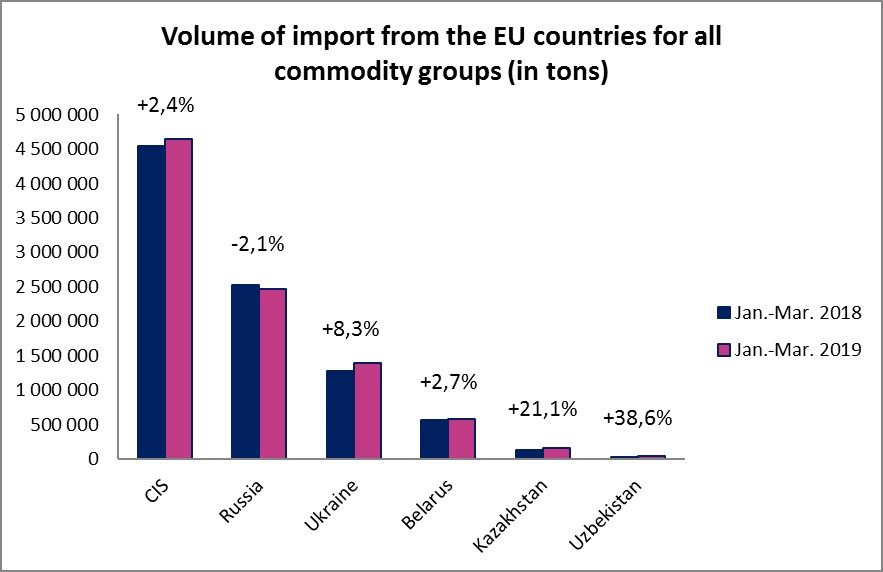 Source: Eurostat
Comments by TELS Senior Managers
Oleg Germanovich, chief officer in Minsk office of TELS Group of Companies: "Looking back at work in Q1 2019, there were no noticeable shocks affecting the volume of goods to our target markets. The volume of FTL services in Minsk office increased by 11% in the first quarter of the current year over the same period in the previous year. A decrease in sales profitability from January to March is one of the noticeable trends in the first quarter. The increasing competition, especially in high-level segments, is preparing us both for an increase in the sales of services and a decrease in transaction profitability. This is how we have been working over the last 2 years – "If you want to make money, process large volumes", which can be resolved by modernizing business processes in the company and optimizing cargo delivery schemes."
Dmitry Stasevich, chief officer in Kiev office of TELS Group of Companies: "Kiev office fulfilled 100% and more of KPIs set in Q1 2019. Given the average market performance, we maintained the high rate and increased road transportation services by 28% over Q1 2018. As a result, our market share has increased. But the country is in for difficult times and changes, which will also affect our activities."
Olga Korotkova, Head of the Automobile Transportation Department in Moscow: "The first quarter was prosperous for Moscow office. Exports to Finland and Estonia increased noticeably by 2.3 times in total, imports from Finland – by 16%. Exports to the Balkan countries saw an increase of 20%. Despite the lack of transport from / to Kazakhstan and problems at Kazakh-Kyrgyz border, the growth in the number of transportation orders to / from Kazakhstan was 70% over the same period in the previous year."