Project transportation is the delivery of such types of cargoes as production lines, large consignments of equipment, plants, etc., as well as transportation of bulky and heavy cargoes implying thorough analysis of the route and possible engineering intervention in road infrastructure.
This type of transportation implies a detailed study of numerous factors, such as the development of an effective route and delivery method, the development of loading and fastening schemes, the preparation of transportation documentation, etc.
The professional experience of TELS Group of Companies includes a large number of different logistics projects. We would like to share the details of a project transportation case below.
TASK
Project and Oversized Cargo Transportation Department of TELS Group of Companies received a request from a Belarusian oil refinerу to deliver three containers for liquid nitrogen storage from the Republic of Poland.
The dimensions of the objects: 33 m long, 3.17 m wide, 4.15 m high. The weight of one container – 104 tons.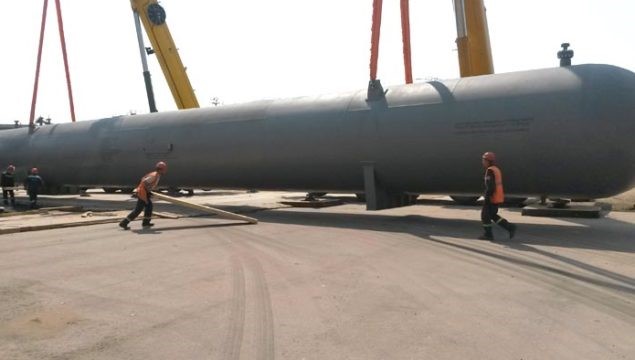 Stage 1. Route development (survey)
Yulija Ivanova, Head of Project and Oversized Cargo Transportation Department of TELS Group of Companies
"According to inspection results, direct routes are quite often not consistent for transportation of bulky and heavy cargo. Even if there has been transportations along the routes we know, we still need to check everything right before transporting the next project cargo.
After a detailed survey of the routes for transportation of the required cargo, we found out that 3 (!) preliminarily routes suitable for direct delivery from Poland to Belarus had to be excluded consistently as road construction works were held there at the time."
Only the fourth route implying transit transportation via Ukraine was suitable for cargo delivery.
Stage 2. Receiving transportation permits
Before the transportation of the cargo begins, it is necessary to coordinate the schedule of cargo movement with road services and traffic police and obtain the required permits for transportation of bulky and heavy cargo. Sometimes this process takes several months.
Professional preparation of the documents to apply and the established business ties allow to reduce the time. TELS experts received the entire package of permits during a little more than a month.
Stage 3. Transportation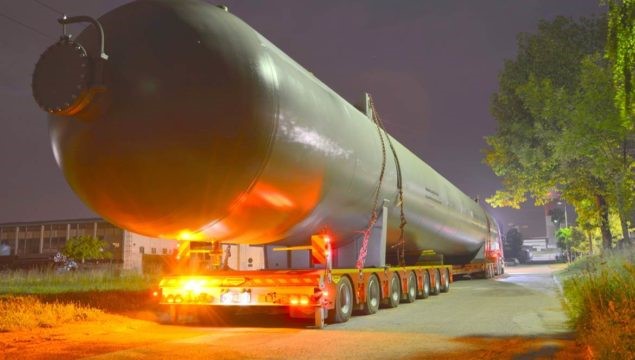 Yulija Ivanova: "We usually have to intervene repeatedly (not without permissions of relevant authorities) into road infrastructure along the route of a project cargo.
The car carrying our cargo was almost 5 meters high. A number of technological solutions were developed for successful transportation on individual parts of the road, where the cargo itself could not pass."
In particular, light towers and traffic lights were dismantled several times with their subsequent reinstallation. The construction of transport platforms was changed temporarily in order to carry the cargoes under one of the lowest bridges along the route.
Results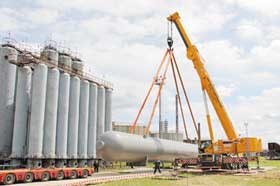 As a result of the project transportation, the containers for storage of liquid nitrogen were delivered in time to the installation site. We complied with all the contractual obligations and project budget, which allowed the Customer to fulfill their plans to modernize the production process without delay.
***
Expert recommendations for those who plan to transport bulky and heavy cargoes
Transportation of bulky and heavy cargoes is one of the most complex types of transportation requiring real experience and the ability to solve complex non-standard tasks quickly. Even transportation of the same type of cargo along a familiar route can have unexpected problems.
Here are some tips for those who are planning transportation of oversized cargoes for their enterprises. What should be taken into consideration to reduce the risks of unforeseen situations and help your logistics contractor perform the delivery as planned?
1. It is important to collect reliable data on the cargo. Cargo characteristics specified in technical documentation may not be true, especially if the equipment, units and devices have already been used or could have been modernized. The cargo should be measured accurately with all the sheds, canopies and other parts.
2. Prepare yourself for the fact that the cargo will not go along the shortest route. Every oversized cargo is special requiring thorough development of delivery schemes in view of its individual characteristics. The more non-standard and bulky the cargo is, the fewer:
ports can receive and reload it
vehicles can carry it
roads it can pass
bridges, elevated roads and other road structures can be missed.
Route development often takes longer time than expected. However, the more detailed the route is, the faster all the necessary permits will be obtained and the more precise transportation terms will be.
3. Check your cargo for "dual purposes" and hazard class. Previously used cargo will be most likely qualified as "dangerous" if fuel or any process liquids that could remain partially in it were used during its operation. Sometimes the cargo can be qualified as "dual-purpose" by the customs authorities, which will also add complexity and limitations. It is important to think about such things in advance.
***
There are still a lot of particularities and "pitfalls" in oversized cargo transportation to be taken into account by a logistic contractor, so we advise to trust the transportation of oversized cargoes only to an experienced and proven partner.