One of TELS most actively developing departments – TELS CARGO – one more time enlarges its transportation facilities.

On 13th of June 2012 TELS truck fleet has been increased by 6 couplings consisting of truck tractor MAN TGX 18.400 and tilt semitrailer Koegel SN24. As the previous batch, new trucks meet EURO 5 ecological standard, tilt semitrailers with load capacity of 92 cbm have movable roof, which simplifies loading from the top.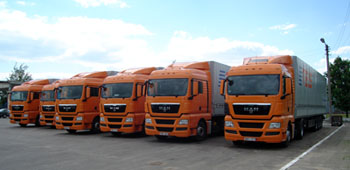 Thus present day TELS own truck fleet consists of 60 heavy-weight trucks and 4 low-tonnage trucks.
Company does not plan to dwell on this. Next replenishments of own truck fleet are expected in nearest future.
But that's not all!
TELS CARGO is being constantly extending drivers' staff intended for utilization of growing truck fleet and performance of increased carriages volume. Today number of company's drivers reached jubilee figure:
100 !
TELS own automotive equipment is being served by permanent drivers staff, each driver has been hired on base of references. Crews pass psychological compatibility test, drivers upgrade their qualification annually by attending Corporate Training Centre and are being certified.