What does a Customer need to know about the services provided by TELS Group of Companies?
First, we aim to satisfy customer's logistics needs in accordance with their priorities.
Second, we are always ready to show our "inner workings" and all the aces to demonstrate our advantages.
TELS Group of Companies focuses primarily on the possibilities of the Groupage Services Department.
To recap, groupage cargo services imply:delivery of a small consignment at the most reasonable price,
delivery of a small consignment as quickly as possible,
establishment of stable deliveries of small consignments "just in time",
delivery of any consignment requiring handling (marking, repacking, etc.) in transit.
The advantages of Groupage Services Department, TELS Group of Companies are presented below.
1. 48 experts in groupage cargo transportation.
48 professionals working solely with consolidated cargoes using well-established business processes with high efficiency and quality standards is, perhaps, a unique phenomenon among the forwarding companies in our region. This speaks volumes of a large number of groupage cargo transportations and vast experience in the transportation sector. The volume of services provided by Groupage Services Department, TELS Group of Companies grows annually by approximately 20%.
2. Almost any type of consolidated cargo to any region of Russia and other countries of the EEU.
We transport different types of goods from twine to complex equipment, medications and chemical agents; we also offer temperature controlled and dangerous cargo transportations. We provide "door to door" deliveries. Cargoes sent to destination regions are consolidated by compatibility and similarity of transportation conditions.
3. Large variety of delivery schemes in accordance with customer's priorities.
The customer can regulate the delivery time and costs – faster or cheaper. The task can be limited by:
a) money, logistics budget
b) delivery time
We select the best transportation scheme guided by the task set by the Customer.
Basic delivery schemes:
A "classic" consolidated cargo option implies the delivery of goods with reloading at a consolidation warehouse, when a vehicle going from a load point to the destination carries goods for different Customers, and it is the cheapest option suitable for the customers ready to plan transportation during 7 – 14 days.

When the Customer gathers the so-called "mono-delivery" (the goods placed at a consolidation warehouse are loaded into a standard truck only for one Consignee), the delivery time is around 10 days.
A combined option implies loading of goods into a light truck with reloading at a consolidation warehouse and further transportation as part of a consolidated consignment to consignee's warehouse (or vice versa: as a consolidated consignment delivered to the warehouse and further transported by a light car to the consignee). The average option in terms of time and cost takes from 5 to 10 days.
An option with an individual light truck implies the delivery of goods to one Customer from the load point to the destination. This is the most expensive, but also the fastest option of delivery by road (taking from 2 days depending on the region of Europe).

Note: a light truck is a good option for speedy delivery of a small consignment as work and rest time restrictions do not apply to vehicles less than 3.5 tons, so they can go without compulsory transit stops.
The most urgent option implies delivery by air. As a rule, it's the most expensive delivery method.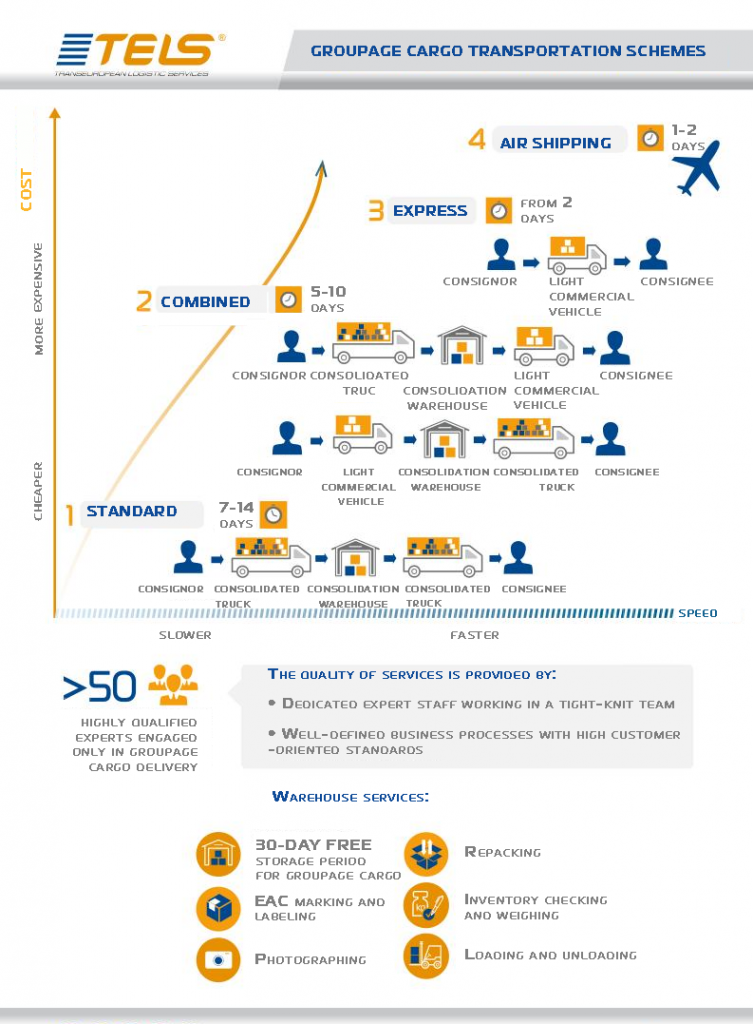 Anna Vazhnik, Sales Manager of Groupage Service Department, TELS Group of Companies:
"The advantage of our business processes is in our ability to satisfy almost any customer's individual requirements: should they need car registration number before loading, we will provide this information; should they require only empty vehicles for loading, we will do that; should they ask to come for loading by a certain time or should they need to speed up/delay the arrival, we will do that, too. We will develop individual logistics solutions and ensure stable operation of the devised scheme for customer's special cargoes and requirements."
4. Warehouse storage and cargo handling before importing to the EEU territory.
We provide a wide range of warehouse services:
• FREE storage at a consolidation warehouse for an indefinite period,
• weighing
• inventory,
• repacking,
• labeling,
• photographing, etc.
We label with EAC marking and provide operating guides in Russian for large consignments of about tens of thousands of items in the shortest time.
Last but not least, we provide a variety of additional services, such as insurance, assistance in customs clearance, etc.