On a long-term basis, the decrease of Russian import potential will also be supported by the tendency of foreign manufacturing transfer to Russian Federation. This is the opinion of more than 50% of Heads and Top-Managers of Russian retail enterprises and foreign representative offices.  
In April 2015 TELS Group carried out its traditional survey among the participants of the 6th SUPPLY CHAIN & LOGISTICS FORUM (Moscow). This event gathers together several dozens of directors and top-managers of large retail enterprises as well as manufactures of Russian Federation and foreign representative offices. During the questioning respondents answer the questions regarding the general tendencies of transport and logistic market, demand for outsourcing of logistic services, optimization of logistic business processes in supply chain.
Logistics in Russia: expert opinion
In 2015 among the general questions there were also questions regarding further perspectives of cargo traffic changes in international and Russian domestic logistics, taking into account present world trends.
One of the factors which influence the increase of Russian domestic logistic market is the tendency of foreign manufacturing in RU. 57% of experts voiced for the opinion that this tendency will be continued despite of the political problems between Russia and European Union.
At the present moment 65% of enterprises' representatives reported about decrease of deals with suppliers-nonresidents of RU taking into consideration the crisis tendencies in international politics and economy, mutual economic sanctions between Russia and Europe.
Diagram 1. Was the volume of deals with suppliers-nonresidents decreased taking into consideration the crisis?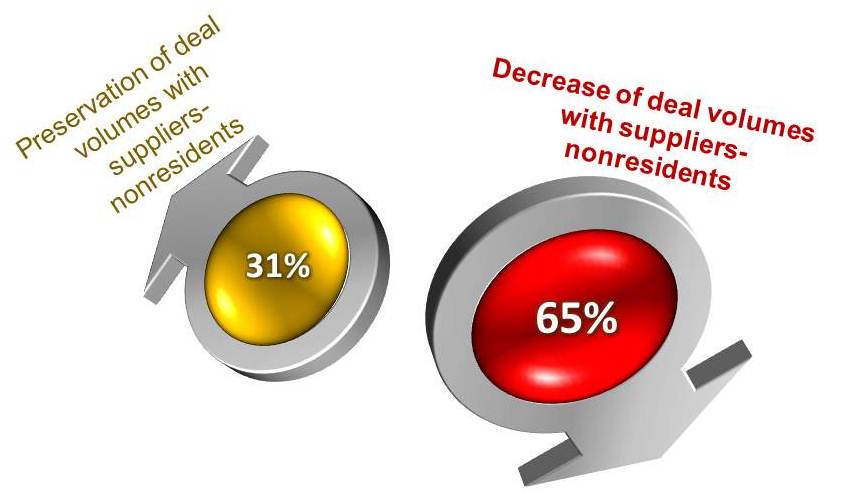 50% of enterprises-importers are looking for the alternative of the European suppliers in Russia, China, Israel, North Africa, Turkey, South America. 45% of enterprises do not consider alternative due to restrictions in their activities. Alternative is not necessary at the present moment for 5% of questioned entities.
Diagram 2. Does your Company consider the alternative for the European suppliers? From which countries?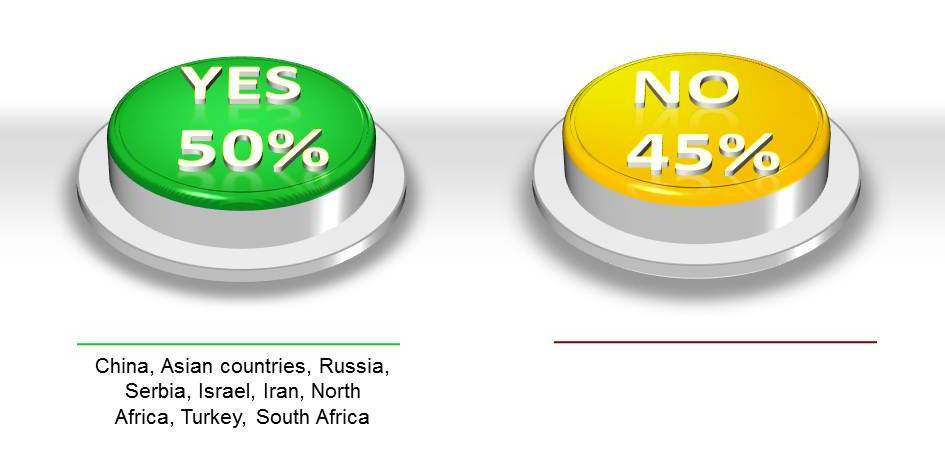 Most of the experts forecast the crisis in Russian Economy for 1-2 years. Herewith only 30% of respondents are waiting for the pessimistic scenario for their companies (stagnation or volume decrease), the rest plan the positive dynamics.
Russian customers prefer the enlargement of goods' consignments in order to optimize the transport expenses. 65% prefer this kind of optimization. For 35% of companies speed and flexibility of deliveries is preferable (LTL).
Diagram 3. Which way of logistic optimization is considered to be more effective for your Company?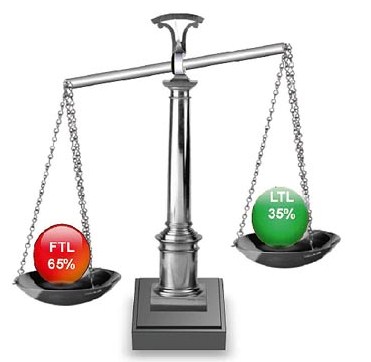 Detailed report about Experts' questionnaire of the 6th SUPPLY CHAIN & LOGISTICS FORUM TELS customers can received on request marketing@telsgroup.com.